As the name suggests, toxic cabinets are used for storing of toxic substances but often we find industries do not follow safety protocols while dealing with toxic substances for sale or re-sale purposes or even for manufacturing it ahead. There have been times, when people have faced untoward incidences due to spillage of toxic substances in their facilities and it can lead to hazardous situations. The toxic cabinets are exactly the cabinets that can help one avoid such accidents that can be danger to the life or the facility. These cabinets are custom made and hence most of the times, they are made-to-order so they can fit well at proper places.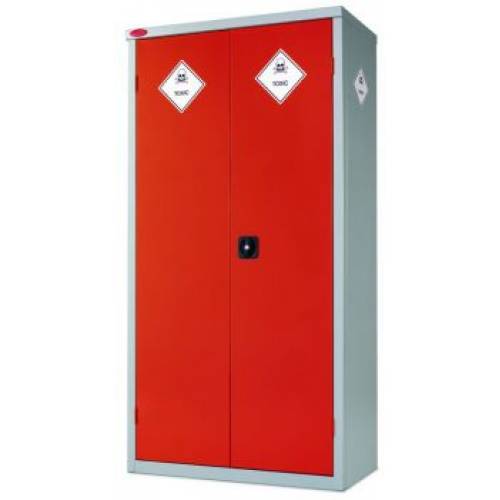 The toxic storage cabinets have the capacity to store all kinds of toxic materials, in the form of liquids or solids. In most facilities, they also come with a labelling frame so the people using them would know which cabinet consists of which materials. Hence, the bifurcation becomes much easier. The toxic substances need to be stored at proper place, and they are locked away most times by keeping them at isolated places. Sometimes, even the usual exposure to toxic elements can cause major accidents to humans through inhalation hence it is vital to capture these toxic elements to prevent any kind accidental spillage. The most commonly available toxic cabinet is the 160L toxic safety storage cabinet. This can almost store up to 6 drums of 20 litres.
Characteristics of Toxic Cabinets
Sometimes, it is really difficult to differentiate whether which is the cabinet made for toxic substances and which is for general use. Although, they look very much alike, they are not. There is vast difference, in the way, they are constructed, built and stored. Like any other cabinets, the toxic cabinets, too helps to keep an area clutter-free.
The most remarkable difference is, that these cabinets are danger-free since they are made only with specific material such as heavy-duty steel. Whereas, in comparison to this, the general cabinets could have alternative materials and may have more breathing space inside.
The cabinets have the capacity to store up to six 20-litre drums.

The cabinets help to promote good house-keeping practice.

The toxic cabinets help to keep toxic substances all together at a safer place.

The toxic cabinets help to keep the compatible and non-compatible products differently.

The cabinets are made up of heavy duty steel.

The cabinets are coated with UV stabilized steel giving greater durability.

The cabinets consist of adjustable screws that can help to shuffle the levels of every shelf.

The self-closing hydraulic door ensures they are locked even when let out by itself.
The toxic cabinets are highly recommended for industries dealing in chemical substances for manufacturing or re-processing. They not only give a safe storage but also helps to keep chemicals in a proper place without any confusions. The specially made toxic cabinets have an in-built integral spill containment bund located at the bottom of the cabinets that helps to capture any kind of drips, spills or any leaks. This is sometimes the standard set for industries for safety of individuals working in the facility.
These cabinets are made for indoor use except specially needed for storing it in an open space, the configuration and the material used could be changed. Usually, these are to be stored in closed room hence they are made for indoor use only such as chemical establishment, refinery of any kind, laboratories, etc. the toxic cabinets are extremely useful for any kind of industries dealing in serious materials that can cause serious harm to individuals. It helps to keep the work area neat and organised. The special labels with the storage cabinets helps for the people who are unknown to the facility to stay away from such substances.
Types of Toxic cabinets

Although the common mission behind making toxic cabinet is only one, that is to ensure safety and avoid the spillage. To a larger extent, these cabinets are custom built and made for specific purpose since different industries may have different requirements. There are many sub-categories to toxic cabinets, some are larger in quantity while some are smaller.
They are custom-made based on the industry type, hence they give proper use and output. The cabinets are versatile in nature hence even if they are bought for toxic substances, they can anytime be changed to be used for normal use to. It doesn't require much change in configuration or material since all cabinets are rust-free and provide longer use.
Safety cabinets

Flammable safety cabinets

Flammable storage cabinets

Poison storage cabinets

Toxic poison storage cabinets

Pesticide safety cabinets

Gas cylinder cages
The above are just some of the different types of cabinets that are made for storage of toxic substances. Some industries, who operate with chemical substances, do not store the chemicals at their own facility, sometimes, it may cause bigger danger because every time they require it, transition is a big problem. Apart from transition, there are many risks involved since every time the delivery comes, special arrangements need to do for its shipping, transport and then storing. And still storage is the problem!
Hence the best solution is to invest in storage cabinets, that can be stored neatly in one safe area in the facility. It is not only safe but provides peace of mind, who are dealing with it on a daily basis. It is one of the best and time-saving methods to store different types of dangerous materials. The storage cabinets are leak-proof and pass the safety standards given under the general protocol by the government. The cabinets are tested as per the international standards and provide greater safety compared to any other storages.
The most common feature, that one can find in all types of cabinets, whether they are for toxic or general use, is that they have double door for better convenience. The special toxic cabinets have self-closing doors and for storing of gaseous materials, there are vent openings that help to escape gas. These cabinets are high capacity and come with at the least one adjustable shelf.
Different sectors and industries use these toxic cabinets for their general purpose, it provides proper work dimension to their work-flow. The chemicals can be properly distinguished with the labels, it is safe for workers and they are at better ease when safety standards are following in an organisation or a factory or garages. The powder coating helps to keep it clean and rust-free giving higher durability hence it is one of the best options to invest in these cabinets.