Tablet Charge and Store Locker -15 Doors (Charging)

Description
CHARGING - Tablet Storage locker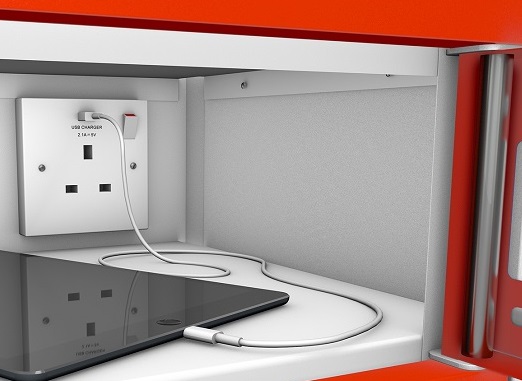 15 lockable compartments, each with a charging socket.

1780mm High x 305mm wide x 370mm deep
MEDIA DEVICE STORAGE, POWERED
Probe offer a comprehensive range of media tower lockers for a variety of smart devices. You can choose from powered or non-powered, mobile or static, there's a media tower to suit your needs. This range incorporates Activecoat, the world class anti-bacterial powder coating from Probe.
Safe location of power socket.
A Comprehensive range of sizes and styles available. All charging units are CE marked.
All doors are secured to the frame by a solid hinge.
Units are manufactured form sturdy 0.9 and 0.7mm steel.
All compartments have scratch resistant lock covers with the facility to number each door to help identification.
A wide variety of locking solutions are available.
Each charging compartment has a rear perforated panel for heat dissipation.
Colour Choice
White carcass only

Doors:

If Type L Electronic locks are selected they will be fitted horizontally

Select below dimensions in order to buy this product.
Dimensions
Code
Web price
VAT
1780mm H X 305mm W X 370mm D Single
TAB/1212/15/15/PLUG
£450.26
20.00%