Benches are a common sight everywhere, be it a changing room or a garden. They are of different types for outdoor and indoor use. When it comes to spaces such as gyms and schools, cloakroom benches become an ideal choice. We need benches where we can not only sit but also use them for storing our belongings. You might want to hang a cloth or keep other things. Cloakroom benches are of different types depending on the use. Some have storages below the benches and some have spaces to hang something above the seats. They are the ideal furniture for storing commodities and come in a variety of types and materials. If you are looking forward to buying a cloakroom bench then you should take a look at the varieties available. Given below are some of the varieties along with the options to upgrade the look of your existing cloakroom bench.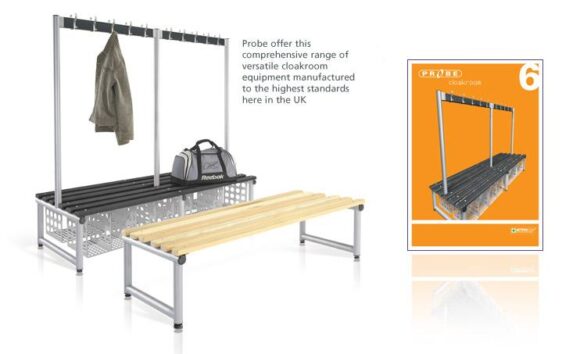 Steel
Steel is the most common material used to make cloakroom benches for its sturdiness. With even distribution of weight and lightweight nature, it is highly preferred to be used in making benches. Steel can be used to make a variety of benches. You can get a big bench or small parts bolted together to give a shape. So, you can get the parts replaced or removed. The easy to clean nature also acts in favor of steel.
Timber
Timber has been used in making benches for many years. With the advancements in technology, the timber for benches comes in many textures and strength which has increased its demand. It is also a good sustainable alternative for environment-friendly people. You can use different wood stains for the cloakroom benches to suit the interior of the space. Today timber is known to be a lightweight choice, unlike the traditional types which used to be heavy.
Polymer
Polymers have made their way into every commodity. They are highly demanded for robustness. The best advantage is its availability in a variety of colors and type unlike most of the other alternatives. The color of the polymer does not fade with time and use. Using polymer, you get to make the cloakroom benches of your choice. Select the color that suits the layout of the room and make the most out of the space.
Vinyl Wrap
Using Vinyl wraps is one of the new trends in the cloakroom benches. People are using this wrap to give a different kind of finishing to the benches. You can go for a glossy or matt look in the color of your choice. Moreover, vinyl wrap offers the flexibility to be used on every component of the bench including slats and frames.
Powder coat paint
Powder coat paints are used to give color to wooden and polymer cloakroom benches. With this paint, you get the opportunity to give a new look to space. If you are planning to revive your space with a cloakroom bench then you can definitely choose power coat paint to paint the bench in the color of your choice. You can get the best look in a very cost-effective way.
Besides the material, you need to consider other aspects such as the height and length. Check out the additional attachments such as storage spaces and hanging rails before purchase. You can visit our website to purchase cloakroom benches and other storage products. You can find all the varieties of cloakroom benches with us to suit your space. Contact us today to get the free design and quotation service backed up with a professional installation service.
Tags: cloakroom benches