An industrial wardrobe essentially caters to our requirement for storage. Our tendency to constantly acquire material objects leaves us searching for places to put our belongings. Items meant for display can be put out on shelves for decoration but sometimes our personal items also need to be organized neatly for our use. Wardrobes help to fulfill this functionality and this post aims to highlight various types of industrial wardrobes for sale in the UK. Based on your style, you can select from the items under the broad classifications listed below: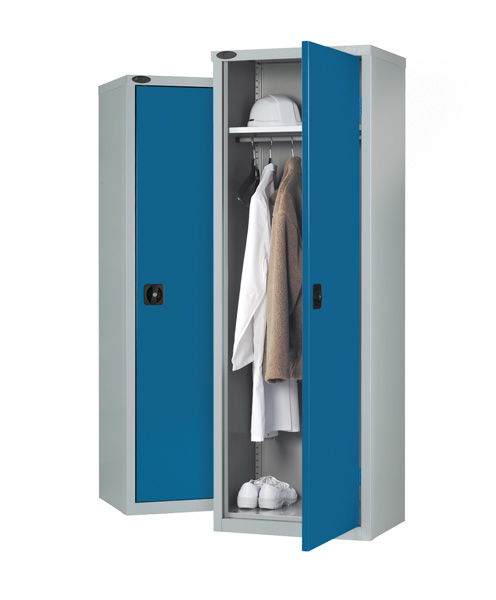 1. Antique Style Wardrobes
Anything that has been around for over a century is considered antique. There is a lot of value in antique products as they are few and far between. We live in a 'use and throw' age where you will find competitive prices on products but you will also find that with a lower price comes lowered durability. However, furniture happens to be one such product where an extra investment goes an exceptionally long way.
Purchasing an antique wardrobe can be tricky as you need to look out for the maintenance factor. However, if you have a good supplier, surely you will find some beautiful pieces that will steal your heart away. 
Antique wardrobes are often made in mahogany wood, but also other different types of hardwood. You can tell their age from the design and style, often two-door wardrobes with exquisite carving and some may even have large size mirrors. Even the fittings such as handles, knobs, and locks help to identify antique pieces. If the style of the early 1900's appeals to your aesthetic sensibilities, they are the perfect fit for you.
2. Retro Style Wardrobes
If you are looking for something unused that still bears the style sensibilities of the recent past, you should look out for a store with retro wardrobe collection. A good supplier will have a range of retro wardrobes available. It may even be a possibility to imitate a style of your choice, you could put in a special request and see what your suppliers can do for you.
The bonus with retro style wardrobes is that you can purchase something that is brand new while also satisfying your sentiment about being old-fashioned. Retro style wardrobes do not necessarily belong in homes that have other old-fashioned furniture, they can also be customized to fit into modern homes with contemporary style furniture.
3. Vintage Industrial Style
Vintage refers to something that has been passed on from the previous generation, often concerning fashion or aesthetic sense. UK suppliers who stock wardrobes will usually offer a collection of vintage industrial wardrobes for sale. In comparison to antique, vintage wardrobes available today carry less intricate carvings and simpler design elements including fittings. However, they are very appealing to those who enjoy reminiscing in the memories of their childhood. Contact your local supplier and find a piece that helps you relive the beautiful memories in your parent's homes.
4. Clothes Rails and Wardrobe Shelves
If you are looking for modern and chic, clothes rails happen to be very on-trend. A simple stand supporting a rail and a few shelves are perfectly built for the modern minimalist. Wardrobe suppliers will surely provide many variations of clothes stands and clothes rails. These are also very useful if you happen to have a walk-in wardrobe. 
Though the simplicity of the clothes rails can be a little disenchanting, they can be customized to look very niche. Besides providing open spaces where you can view and select exactly what you need, these products also encourage us to acquire less and live more. Not to mention the ease of hanging up your belongings without having to make the effort to open up your closet.
The Wardrobe Fever
For those of you who love your wardrobes in every shape and style, we hope we've given you something to look out for. After all, wardrobes are not purely storage, they are the identity of your personal space. How we tend to our appearances is certainly a priority but we must also factor in that how we maintain our surroundings is a reflection of who we are. 
At the locker shop you will find some of the finest wardrobes that will tend to your every need. Stop by and have a look at the collection and if you are short on time, you can even visit the online store.