School lockers find their place in every leading education institution. They come in a variety of colours, designs, and materials. Choosing one that works for you can be a complex decision.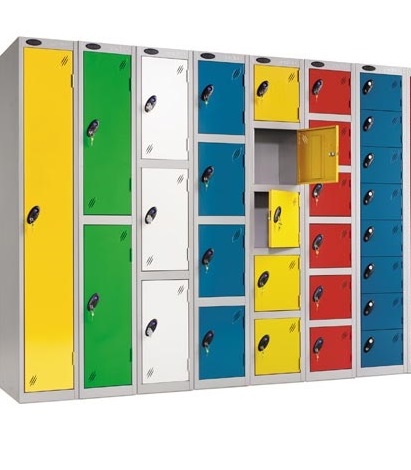 Is it something aesthetically pleasing that you are looking for or something basic and functional? No matter what your needs might be, there is something for everyone.
While it might overwhelm you looking at the wide range of options, here is a list of some of the most popular types of school lockers.
The Need for School Lockers
School lockers are essential for students to keep their belongings. It helps reduce the weight students might have to carry on an everyday basis. It also creates a sense of responsibility in the students by developing organizational skills. With the availability of school lockers, students can carry the essentials they might miss out on due to the heavyweight of books.
Types of School Lockers
The most common types of school lockers include steel lockers and plastic lockers. They come in different sizes and configurations, and you can also choose from a store of colours. We have listed down some of the steel and some common plastic lockers for you.
Steel School Lockers
Steel lockers are long-lasting, durable, and secure. They provide better security as they are heavier as compared to plastic lockers. Some of the options available in the steel lockers are listed below.
Cube & Quarto Lockers
These are individual cubes and quarto that come in different sizes and colours. They can be bolted together to form a larger set and would serve your purpose if you are looking to repair some older existing lockers.
Low-level Single & Two Compartment Lockers
These are meant for primary school students as they are not very high. They come with shelves to arrange your items pretty well.
School Compartment Lockers
School compartment lockers come in single, two, three, four, five, six, eight, and sixteen compartments. With a lot more space and a variety of shelves, you can hang your coats and place your favourite books in place.
Plastic School Lockers
Plastic lockers are tough-made and might be a better option than steel lockers. They are rust-free and last longer. They also are dent-free, value for money, and 100% weatherproof. If indoor space is an issue for you then these might be the best lockers to go for. You can install them anywhere and not worry about them being damaged as they are waterproof. Some of the plastic School lockers available in the market are listed below.
Ultrabox Mini Water-Resistant Lockers
Compact in size, these come in a single and two-door configuration. They are water-resistant and can fit in any space in a room.
Ultrabox Water-Resistant Lockers
These come in two, three, and four doors varieties. They are vertical in configuration and have different shelves to keep the belongings.
eXtreme Plastic Lockers
Made with high-quality plastic that lasts longer and is theft-proof, these come in variants of 450mm, 650mm, and 900mm height.
Over to You
From classrooms, hallways, or poolside changing rooms, you can find a variety of school lockers to choose from. What's best is you can customize the lockers to suit the overall theme of your school by choosing different colours. Have you bee able to pick the perfect school locker for yourself? Do comment if you are now closer to finding the right fit.