When you need storage space that is both secure and functional to stash possessions, gadgets and other valuable items there is no better choice than metal lockers. Apart from being cost-effective, durable and safe, the units are perfect for any setting, be it home, work environment, educational establishment or warehouse. So, what should you look for in metal lockers? To ease your dilemma, we have compiled a few crucial questions you should ask before running to the store and start shopping for the storage equipment.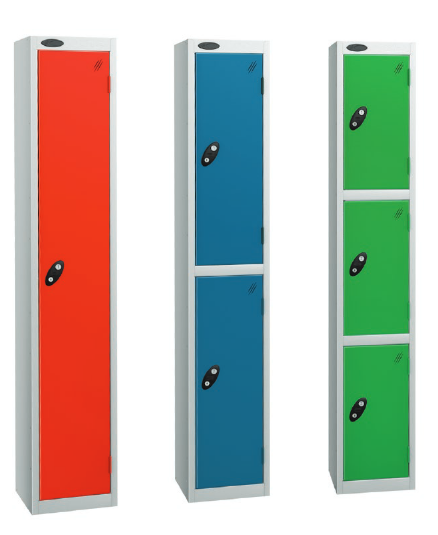 Are the metal lockers durable? 
The structural integrity of the metal lockers is unquestionable. They have a long shelf life and are constructed to offer the utmost security. The doors are sturdy, robust, and hard bearing with the potential to endure rough treatment.
The units can be used in various segments, but are better suited for an indoor environment that is dry and hence ideal for schools. And yes, the metal lockers can be installed with 'shockproof' laminate door panels in different colours and textures. This not only enhances the aesthetic appeal of lockers but the extra strength shields them from damage against blows, dents, scratches, and graffiti etchings.
What is the size and pattern of metal lockers? 
The metal units are versatile and can be tailored in a range of configurations, sizes, and colours to fit specific requirements or a designated area. The typical height of a standard metal locker is around 1780-1800mm while the number of compartments can extend from 1 to 16.
The tall lockers offer maximum storage space and are also available in single and double tier frames with hooks for hanging clothes. Metal lockers are also designed as cubes to accommodate possessions of small kids from primary schools and playgroups. In addition, there are low-level lockers that have more storage than the high units but less than cubes.
What is the locking mechanism?
Needless to say, the locking mechanism is an important feature of metal lockers. There are various locking systems available in the market place. A quality cam lock (2 keys per compartment) with a master key facility is a popular choice. However, you can opt for hasp and staple locks with padlocks which are easy to administrate. Coin or card-operated locks are other alternatives available. Then there are mechanical and integrated electronic combination locks which eliminate the need to carry a key around.
What other accessories can be availed? 
There are several accessories devised to facilitate storage requirements. While the basic lockers come with flat tops, they can also be crafted with a slope for the education sector. The inclined tops not only prevent overhead cluttering but also reduce the danger of the stockpiled stuff landing on people and causing hurt.
Other extras include feet for elevation to ensure cleanliness is maintained beneath the lockers and stands for easy accessibility of lower compartments. The doors are also equipped with quiet hinges that prevent jamming cut down the rattling noise linked with the opening/closing of metal lockers. Furthermore, lockers also come with built-in benches to simplify the process of changing clothes and shoes.
Bottom Line:
Installing lockers in any facility is a hefty investment and shouldn't be taken lightly. It's therefore important to give due diligence to all the factors. A careful review of the above questions can go a long way in learning more about the storage solution before the actual purchase. The knowledge gained will help in making an informed decision and acquire standard metal lockers that are the right fit for your needs and available space.