Wardrobes have always been the center of attraction, whether they have been installed inside a residential building or a commercial one. When it comes to preserving essential things, there seems to be nothing like a wardrobe made with the best quality of metal lockers.
Over the period of time, metal lockers have successfully managed to replace other types of storage compartments by providing the incomparable, necessary defense. Not just that, but the robustness and strength of metal locker wardrobes is something that other types of materials might not be able to cope up with.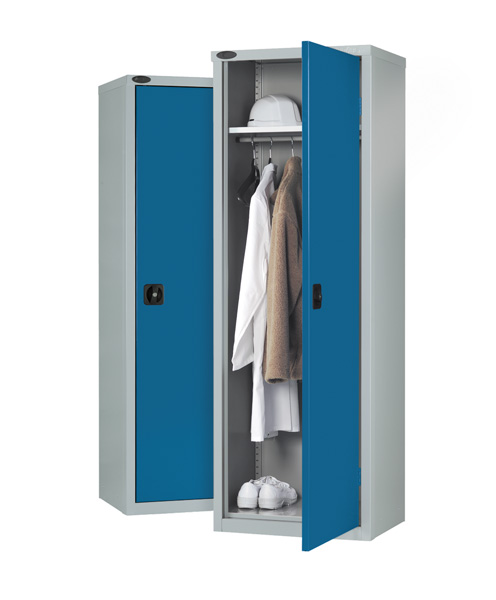 This, amidst several others, is the reason why this furniture piece is gaining immense popularity. In case you are still dubious and can't make up your mind, jotted down below are some of the considerable reasons that will surely help you get clarity. Read on!
If you find your premises getting too small, often the way you are using the space could be problematic. In case you are still working out with an old cupboard that is too big for what has been stacked inside, it is obviously going to consume more space in your room.
Rather than coping up with the same bulky wardrobe, you can use a sturdy metal one that would not only be accurate in size but will also take up lesser space in the room. This way, it will be easier to free some area for other decorative pieces.
Whether in a home or office premises, the need to keep certain items secured can never be overlooked.  In such a situation, a tough and secure metal wardrobe can lock away your important things and keep them completely safe.
Even if you leave the space vacant for some time, you would not have to put extra surveillance. A wardrobe that comes with a satisfactory locker inside will make you feel relieved that your things are safe and locked.
Keeping Everything Organized:
At some point or another, you would have definitely spent hours trying to find something that you thought was lying somewhere in your cupboard, right? If this is something that happens to you quite often, know that you need a kind of storage that can help you keep your stuff organized.
A proper metal storage wardrobe ensures that such an issue doesn't arise again. Some of them are also designed in a way that you get to you have dedicated cabinets inside the wardrobe where you can keep your things separated, and they remain easily accessible.
In comparison with a wooden wardrobe, a metal one makes sure that you don't look for another option for as long as you don't want to bring a change. Although metal has been around for years now, it is being preferred much these days because of the durability that it provides.
Hence, needless to say, you can have a great value to your money. Furthermore, its sturdy aspect ensures that it doesn't break down anytime sooner.
Being Resistant in Nature:
People who purchase a metal storage wardrobe boast of the fact that their furniture piece is completely resistant to chemical, bacteria, and other harmful things. For instance, if you are purchasing a wardrobe for commercial space, it can do well without any sort of glitch, thanks to its resistance competency.
And then, unlike other wardrobe materials, a metal one is not going to be attacked by unwanted pests either. Think about it, neither you would have to deal with bugs nor cockroaches trying to get to your belongings inside the wardrobe. Inadequate closure for the storage can completely elude these things from entering inside.
If you are planning to purchase a metal wardrobe, know that you are in for a reasonable deal. One of the best things about metal locker wardrobes is that they don't cost you a bomb. Neither have they required curving nor bending to create an additional number of shelves or racks. Hence, there will be no additional cost.
On top of that, metal is not even a costly material. Thus, you can always have affordable options in your basket.
Wrapping Up:
Metal furniture has recently started gaining a lot of appreciation and attention from consumers. Years back, this type of furniture used to be considered as extremely utilitarian in terms of its style. However today, metal locker wardrobes have surged extensively in terms of popularity for several reasons mentioned above. 
Apart from a handful of advantages that this furniture provides, they also look stylish and attractive. Believe it or not, once installed, a metal wardrobe is going to attract a lot of eyes. If you are planning to change your wardrobe, consider this option and make a better decision.