Mobile phone storage lockers are getting increasingly adopted across academic and commercial areas. Advancements in mobile phones have triggered a sense of security everywhere, and many offices prohibit carrying mobile phones inside the premises. However, mobile phones with basic calling feature is a nuisance in any educational institution. This is the reason why schools and colleges are installing mobile phone storage lockers on their premises. These lockers are installed everywhere, including militaries, fitness centers, and offices. Dedicated space for mobile phone storage helps the authorities check the use of mobile phones during work or study time as the person can only access the locker when they need a mobile phone. Any fraudulent access is not possible. Besides security, many mobile phone storage lockers come with charging points which increases their demand.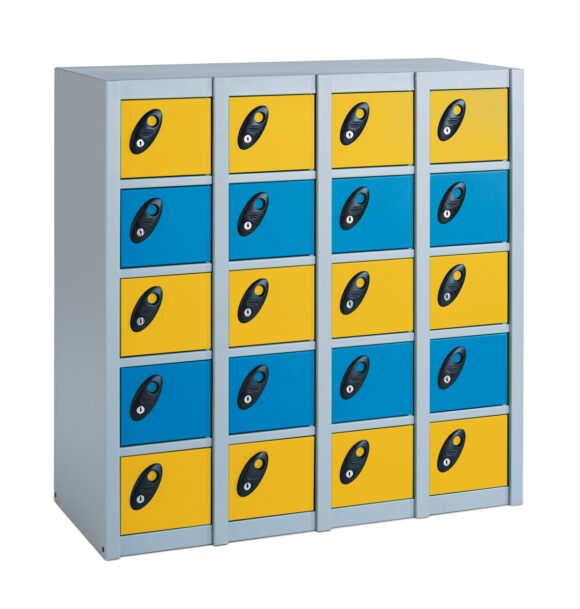 Mobile phones are costly, and their security is the primary aim of any owner. Locks are an essential part of any locker as they define its security.  Mobile phone storage lockers are primarily of four types based on the type of the lock. They are:
Storage unit with keys

This is one of the most conventional types where people have keys for their lockers. In many spaces, the keys of the lockers are with one single person, and everyone accessing it has to get it from that person. This allows the authorities to keep track of every mobile phone storage locker. In many places, people sometimes have to submit something valuable, such as id card, until the storage lockers' keys are returned. With such an arrangement, the chances of the locker key being misplaced are reduced significantly. However, assigning a dedicated person to handle the keys demands expenditure.

Locks with embedded dial combination

This is a non-keyed storage type best suited in spaces where the mobile phone storage lockers are individually assigned to different people. Since there is no dependency on a single person to take care of the access, the owner of every locker can have a unique embedded dial combination. However, there is a challenge for these dial combinations to be used only one time. If the combination continues to be the same, then the previous owner can access the locker of the current owner, which can lead to fraud.

User-defined combination

The challenge of single-use is resolved with the user-defined key combination, which is resettable. So, every user can reset the last key combination to his personally defined combination. To make this fail-proof, the facility manager of the mobile phone storage lockers has an override key with which they can help the users who forget their key configuration and forget their mobile phones locked inside.

Hasps as locks
These are the most common and ordinary locks that require no special memory or key combination. These lockers are like any ordinary locker except their smaller size. The mobile phone storage locker owner can bring their lock to lock the hasp of the locker. These types of lockers are used in public places such as gyms and swimming pools.
You can visit our website to get the best quality mobile phone storage lockers. We have the widest range of lockers and other storage products. Connect with us today to get free design and quotation on your order.