Lockers are one of the most overlooked items inside a school premise. Put in a corner, all rugged and scratchy, they lie in obscurity. However, lockers play an important role in the lives of both the teachers and the students.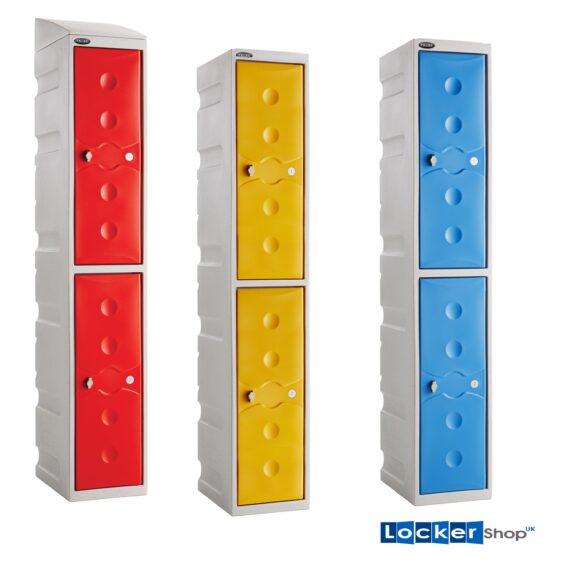 Lockers are used to keep in the journals, books, study materials, and other such items. This benefits the people at school in two ways. First, they do not have to carry all the materials back home with them every day and second, it helps in lowering the chances of these things getting misplaced.
If you too are scouring the market, online and offline, to buy lockers for your schools, here are few things of note that can help you in finding the right one.
1.Metal, Plastic, or Laminate – Which is the better material?
Depending on where you will place these lockers, you have the option to choose from three available material options. Each one comes with its own set of benefits and drawbacks.
Metal
Plastic
Laminate

Benefits

Economically the most viable option
Water-resistant material
Scratch-resistant
More colors available
Ideal for outdoor use or in damp areas
Options for inlay or overlay door
Options for different kinds of locks
Quite sturdy
Comes in various sizes

Drawbacks

Suitable for keeping indoors only
Best suited for indoors
Comes in limited sizes
Medium-strong
Expensive
Expensive
Though it requires constant upkeep, yet the metal lockers are the best option to have in schools.
2. What is the best size to be kept at schools?
This completely depends on the estimated space the students and teachers might require for keeping their belongings. Ideally, for teachers, schools keep a bigger locker as they need more storage area. As such, low to high lockers are good options for teachers. For children, lockers could be of different sizes based on their age. While young ones can be given a cube lockers, teenagers and older students may require low lockers.
3.What kind of locks are required for lockers?
Lockers come with different kinds of locking mechanisms. Generally, there are three types:
Padlock
Combination lock
Key locks
The teachers need a safer storage system as they have confidential materials in their possession. So, for them, the key locks are the best option. Students can be provided with padlocks or combination locks. Since there is a high chance that the students misplace their key or forget the combination, these locks come with a master key that is kept with a staff member for emergencies.
4.How much space is available with you?
We discussed the space a locker provides to the user. It is equally important to consider the space you can leave for keeping the lockers in your school. For example, if you are looking for lockers in the school gyms or sports center, then you will need a larger space as the lockers will be single doors low to high ones for keeping sports equipment, etc. However, for keeping school bags, books, and more you can have cube lockers stacked on top of each other.
Making the Right Choice
The market is inundated with myriad options when it comes to lockers for schools. It is essentially a good thing if you know exactly what you want and how much you are ready to shell for it. But, before you head to the market, look at all the points listed above and concretize your requirement. For more information on products and their pricing, visit https://www.lockershopuk.co.uk/ today.
Tags: School Lockers