Small PPE Cabinet Dish Top 2 Shelves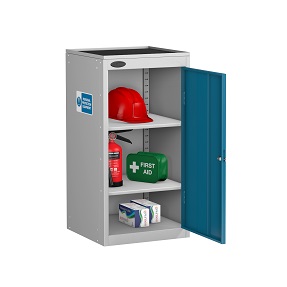 Description
Small Personal Protective Equipment Cabinet - Dished top.
Supplied with 2 adjustable shelves. Includes Top Rubber Mat.
Personal Protection Equipment is mandatory in many working environments (PPE at Work Regulations 1992 Part 5). Controlling and storing your safety equipment will be more effective in a specially designed Probe PPE Cabinet.
An extremely strong cupboard suitable for commercial and office environments. All cupboard components are manufactured from mild steel and powder coated with Activecoat, exlusive to Probe Lockers. Probe products have been manufactured, to the highest standards, in the UK since 1960. Door frames from 1.0mm, doors from 0.9mm, carcass and panels from 0.7mm. Shelf loading is a maximum of 85kg U.D.L.

High visibility 270 degree labelling complying to BS5499-1.
Size: 890mm high x 460mm wide x 460mm deep
Lock: Type A cam key lock with 2 keys.
Colour
PPE Cabinets come with blue doors and silver carcass.
Select below dimensions in order to buy this product.
Dimensions
Code
Web price
VAT
890mm H X 460mm W X 460mm D - 85kg UDL
PPE - LD
£196.93
20.00%