Garment & Uniform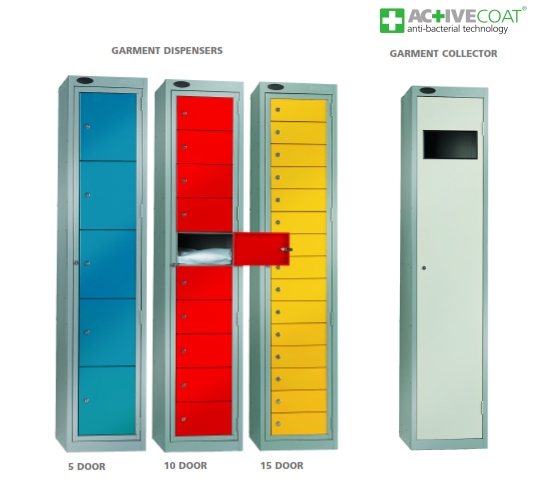 Garment and Uniform management Lockers
These lockers are designed specifically for the management and distribution of work uniforms or overalls. If you have to issue new or cleanly laundered clothing at work then these lockers will make the process much easier.

The Garment dispenser range is manufactured with a double door mechanism that allows all compartments to be opened simultaneously with one key so that your clean uniform service provider or in house cleaning can open all compartments at once to allow the distribution of newly clean laundry, uniforms or overalls to all users.
Once closed each individual compartment can only be opened by the employee to whom it has been assigned. A simple but ingenious time saving solution.
Available in 5, 10 or 15 compartments all at 1780mm High x 380mm wide x 460mm deep.
A single model "Bulk Collector" forms part of the range allowing all dirty garments to be deposited in one secure and convenient loaction for easy collection ready to be cleaned.
Optional sloping tops, lockers stands and bench stands available. See lock options
Available in a range of colours.