15 Day EXPRESSBOX Three Compartment Locker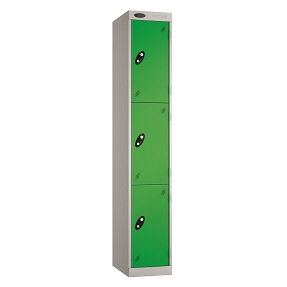 Description
15 Day EXPRESSBOX Three Compartment Locker
Three compartment steel locker from Probe. Maximum Quantity 200.
Probe products have been manufactured, to the highest standards, in the UK since 1960 and have the added protection of Activecoat anti bacterial powder coating.

Locks: Choose between Type A and B locks.
Vents - Vented Doors will be available from 1st June 2021.
Colour: Silver Grey carcass with a choice of SEVEN door colours.

Select below dimensions in order to buy this product.
Dimensions
Code
Web price
VAT
1800mm (H) x 300mm (W) x 300mm (D) - Single
SLEW1C/1
£93.67
20.00%
1800mm (H) x 300mm (W) x 450mm (D) - Single
SLEF1C/1
£118.49
20.00%
1800mm (H) x 300mm (W) x 300mm (D) - Nest of 2
SLEW1C/2
£202.65
20.00%
1800mm (H) x 300mm (W) x 300mm (D) - Nest of 3
SLEW1C/3
£299.59
20.00%
1800mm (H) x 300mm (W) x 450mm (D) - Nest of 2
SLEF1C/2
£223.49
20.00%
1800mm (H) x 300mm (W) x 450mm (D) - Nest of 3
SLEF1C/3
£328.50
20.00%
1800mm (H) x 450mm (W) x 450mm (D) - Single
SLSF1C/1
£135.89
20.00%
1800mm (H) x 450mm (W) x 450mm (D) - Nest of 2
SLSF1C/2
£258.25
20.00%