Single Sided 1200mm Bench- Type B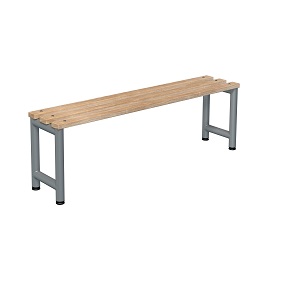 Description
Single Sided 1200mm Bench- Type B
SENIOR range with seat heights at 475mm and upright heights of 1840mm where applicable.
JUNIOR range at seat heights at 400mm and upright heights of 1350mm where applicable.
INFANT range with seat heights at 350mm and upright heights of 1150mm where applicable.
All Premium cloakroom benches are supplied completely assembled and ready to use.
The range incorporates Activecoat, the world class anti-bacterial powder coated finish.

Slat Options - You can choose from Black Polymer or solid Ash slats on the bench range.

Cloakroom Round Tube
Frame: white, silver, green, yellow, blue, red & NEW black
Optional under seat baskets or bottom slats available.

Select below dimensions in order to buy this product.
Dimensions
Code
Web price
VAT
1200mm L X 305mm D X 475mm H
RD/BN/12/SEN
£128.17
20.00%
1200mm L X 305mm D X 400mm H
RD/BN/12/JUN
£128.17
20.00%
1200mm L X 305mm D X 350mm H
RD/BN/12/INF
£128.17
20.00%