Value School Single Compartment Locker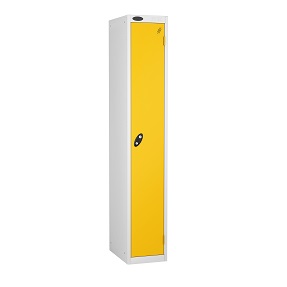 Description
One Compartment Steel Value Locker From Probe Lockers with a top shelf and double coat hook.
Available in 5 different sizes and also in nests of 2 and 3 units to offer even better value for money. With a range of locker and options.
Probe products have been manufactured, to the highest standards, in the UK since 1960 and have the added protection of Activecoat anti bacterial powder coating.

LOCKER STANDS
Available with optional stands, select from 150mm High basic stands to raise the lockers off the floor or 400mm High seat bench stands which allows the user to sit down whilst using the lockers.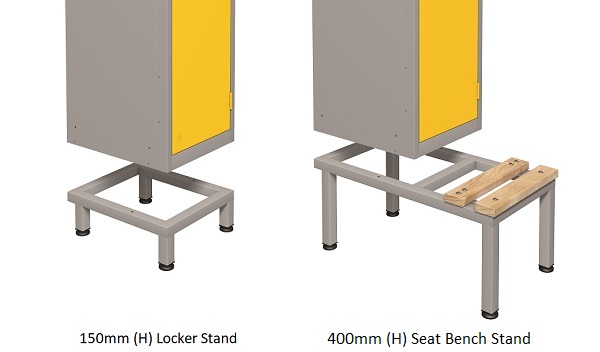 Choice of SEVEN door colours and THREE body colours.

Select below dimensions in order to buy this product.
Dimensions
Code
Web price
VAT
1780mm H X 305mm W X 305mm D Single
701212/1-N1
£73.09
20.00%
1780mm H X 305mm W X 305mm D Nest of 2
701212/1-N2
£137.59
20.00%
1780mm H X 305mm W X 305mm D Nest of 3
701212/1-N3
£202.10
20.00%
1780mm H X 305mm W X 380mm D Single
701215/1-N1
£78.43
20.00%
1780mm H X 305mm W X 380mm D Nest of 2
701215/1-N2
£146.49
20.00%
1780mm H X 305mm W X 380mm D Nest of 3
701215/1-N3
£214.54
20.00%
1780mm H X 305mm W X 460mm D Single
701218/1-N1
£87.35
20.00%
1780mm H X 305mm W X 460mm D Nest of 2
701218/1-N2
£161.47
20.00%
1780mm H X 305mm W X 460mm D Nest of 3
701218/1-N3
£235.57
20.00%
1780mm H X 380mm W X 380mm D Single
701515/1-N1
£87.35
20.00%
1780mm H X 380mm W X 380mm D Nest of 2
701515/1-N2
£161.47
20.00%
1780mm H X 380mm W X 380mm D Nest of 3
701515/1-N3
£235.57
20.00%
1780mm H X 460mm W X 460mm D Single
701818/1-N1
£103.71
20.00%
1780mm H X 460mm W X 460mm D Nest of 2
701818/1-N2
£194.17
20.00%
1780mm H X 380mm W X 460mm D Single
701518/1-N1
£95.53
20.00%
1780mm H X 380mm W X 460mm D Nest of 2
701518/1-N2
£177.82
20.00%