Replacement Keys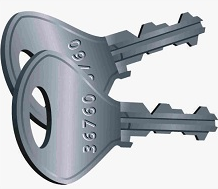 Probe Replacement Key Service
Need Replacement Keys for Lockers or need replacement locks or doors?
Locker Keys will always get lost, misplaced or are always going missing and from time to time a lock can get damaged or need replacing.
We have tried to make it as easy as possible to get replacement keys and locks for Probe lockers. In addition, we can provide Master keys (to authorised users only) as well as replacement locks and doors for PROBE storage products.
Replacement keys are normally held in stock but can temporarily go out of stock. We will always try to fulfil your key orders as soon as possible but when they go out of stock it can take up to 15 days to get a replacement key to you.
Prices:
Replacement locker keys are £4.75 each
Replacement Master keys for lockers are £14.00 each (to authorised users only, email request required)
Delivery Charges
£4.95 Postage
Prices are exclusive of VAT.
Immediate 30 Day Credit Account available for all NHS, Schools, Colleges and Universities.
Placing an Order
Please specify the key serial numbers and qty of each required on your order.
For Schools just post, email or fax your orders and we will process them straight away and invoice you on 30 day terms.
Please specify the key serial numbers and qty of each required on your order.

For Schools just post, email or fax your orders and we will process them straight away and invoice you on 30 day terms.

For all other organisations please send your orders and we can arrange a PROFORMA invoice for you to make payment by BAC's or you can post payment by cheque.
Please make cheques payable to Probe Lockers Ltd
Post to:
Locker Shop UK Ltd
Herons Way
Chester Business Park
Chester
CH4 9QR
Fax: 01244 241175