ZENBOX Aluminium Locker 400mm Seat Bench Stands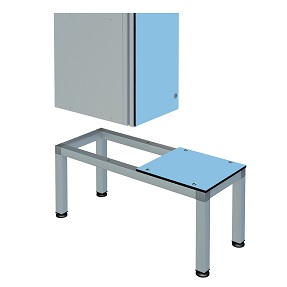 Description
ZENBOX Aluminium Locker 400mm Seat Bench Stands.
Locker seat bench stands raise lockers off the floor, reducing impact damage and making cleaning easier and allows the user to sit in front of the locker. Manufactured from 25mm square aluminium section they are ideal for wet environments and come with a locker seat plinth manufacturered from 10mm solid grade laminate (SGL). All support stands come with adjustable feet for sloping floors.
Size: All stands are 400mm high. All seat bench plinths are 305mm deep.
Optional Front Stand Plinths are manufactured using 10mm solid grade laminate (SGL) to match your locker doors and available at an additional cost. All Plinths are supplied loose to be fitted on site.
Available as single, nest of 2 and nest of 3 options.

Plinth Colour options:

Select below dimensions in order to buy this product.
Dimensions
Code
Web price
VAT
For locker size: 300mm W x 400mm D Single
Seat-Stand-Zen-180-30-40/1
£152.92
20.00%
For locker size: 300mm W x 450mm D Single
Seat-Stand-Zen-180-30-45/1
£152.92
20.00%
For locker size: 300mm W x 500mm D Single
Seat-Stand-Zen-180-30-50/1
£155.78
20.00%
For locker size: 400mm W x 400mm D Single
Seat-Stand-Zen-180-40-40/1
£155.78
20.00%
For locker size: 400mm W x 450mm D Single
Seat-Stand-Zen-180-40-45/1
£158.47
20.00%
For locker size: 300mm W x 400mm D Nest of 2
Seat-Stand-Zen-180-30-40/N2
£185.37
20.00%
For locker size: 300mm W x 450mm D Nest of 2
Seat-Stand-Zen-180-30-45/N2
£185.37
20.00%
For locker size: 300mm W x 500mm D Nest of 2
Seat-Stand-Zen-180-30-50/N2
£189.42
20.00%
For locker size: 400mm W x 400mm D Nest of 2
Seat-Stand-Zen-180-40-40/N2
£189.42
20.00%
For locker size: 400mm W x 450mm D Nest of 2
Seat-Stand-Zen-180-40-45/N2
£194.03
20.00%
For locker size: 300mm W x 400mm D Nest of 3
Seat-Stand-Zen-180-30-40/N3
£237.50
20.00%
For locker size: 300mm W x 450mm D Nest of 3
Seat-Stand-Zen-180-30-45/N3
£237.50
20.00%
For locker size: 300mm W x 500mm D Nest of 3
Seat-Stand-Zen-180-30-50/N3
£242.88
20.00%
For locker size: 400mm W x 400mm D Nest of 3
Seat-Stand-Zen-180-40-40/N3
£242.88
20.00%
For locker size: 400mm W x 450mm D Nest of 3
Seat-Stand-Zen-180-40-45/N3
£245.53
20.00%