Four Compartment Vision Panel Security Locker

Description
Four Compartment Clear View Vision Panel Lockers- Anti Stock Theft
These newly introduced clear view Vision Panel lockers provide a robust security solution to environments when visibility of a lockers contents is needed along with the traditional strength and security offered by a steel bodied steel doored locker. All lockers have a welded plinth between each compartment which adds another level of strength and security.

Available with 1 to 6 compartments and with a choice of three locker depths from 305mm, 380mm and 460mm. Steel doors with polycarbonate window.
Sloping tops to improve tidiness & prevent casual storage also available at extra cost.
Standard Lock Options of:
Key Locking (Standard Cam lock with 2 keys supplied per lock)
Hasp & Staple (suitable for padlocks),
Optional Lock choices of: 4 Digits Reprogrammable lock
Master keys for standard cam locks are available as an extra option.
All Steel components are powder coated with Activecoat, exlusive to Probe Lockers.

LOCKER STANDS
Available with optional stands, select from 150mm High basic stands to raise the lockers off the floor or 400mm High seat bench stands which allows the user to sit down whilst using the lockers.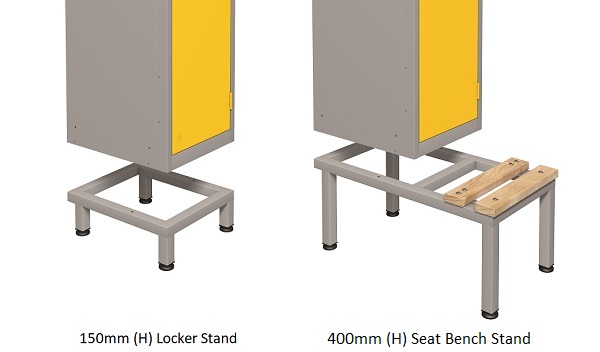 Choice of SEVEN door colours and THREE body colours.

Select below dimensions in order to buy this product.
Dimensions
Code
Web price
VAT
1780mm H X 305mm W X 305mm D Single
VISION-1212/4-N1
£165.82
20.00%
1780mm H X 305mm W X 305mm Nest of 2
VISION-1212/4-N2
£325.45
20.00%
1780mm H X 305mm W X 305mm Nest of 3
VISION-1212/4-N3
£488.19
20.00%
1780mm H X 305mm W X 380mm D Single
VISION-1215/4-N1
£180.76
20.00%
1780mm H X 305mm W X 380mm Nest of 2
VISION-1215/4-N2
£354.43
20.00%
1780mm H X 305mm W X 380mm Nest of 3
VISION-1215/4-N3
£530.53
20.00%
1780mm H X 305mm W X 460mm D Single
VISION-1218/4-N1
£181.13
20.00%
1780mm H X 305mm W X 460mm Nest of 2
VISION-1218/4-N2
£354.43
20.00%
1780mm H X 305mm W X 460mm Nest of 3
VISION-1218/4-N3
£533.88
20.00%