Space Saving Circular Locker Pods

Locker PODS - The SPACE SAVING Locker
This really is a unique locker design designed simply, "To Save Space"
The lockers are designed like the segments of an orange so that they fit together as a circular POD unit.
By offering two width of these locker segments, either 305mm wide or 460mm wide you can create a 7 segment POD or an 11 segment POD. All pods are 1780mm tall and the depth of the Segments is 460mm.
Each segment in the 305mm wide range can be 1*, 2*, 3, 4, 5 or 6 compartments high giving you PODS that have 11, 22, 33, 44, 55 or 66 compartments in total.
Each segment in the 460mm wide range can be 1*, 2*, 3, 4 or 6 compartments high giving you Pods that have 7, 14, 21, 28 or 42 compartments in total.
The 460mm wide range also offers a single door clean & Dirty locker with a top shelf and centre divide to separate clean and dirty clothing or equipment.
A sloping canopy is available and there is the choice of 2 stands. A static 150mm high stand set or 360 degree rotating base stand. Using the 360 degree rotating base means that you can tuck the locker in a corner if you are tight for space and still access all compartments.
* includes a double coat hook per compartment
Probe products have been manufactured, to the highest standards, in the UK since 1960 and have the added protection of Activecoat anti bacterial powder coating.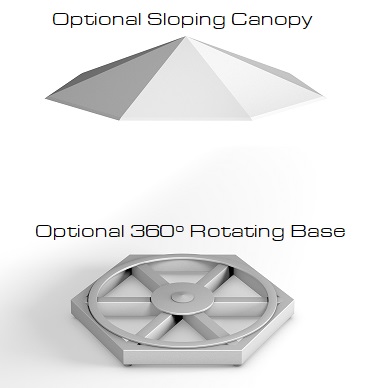 Options: Add a canopy top and/or 360o rotating base.
Lock Options: See lock options
Colours: Available in Autumn and Standard colour schemes.