7 Pods-Clean and Dirty -total 7 Compartments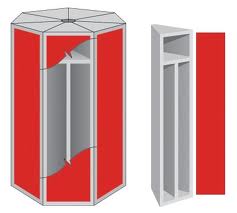 Description
Clean and Dirty POD Locker.
7 Large Seed Pod Segments, 1 Locker per segment - total 7 Compartments
Segments 460mm widex 460mm deep
Includes a double coat hook per compartment
Designed specifically to offer the seperation of clean and dirty garments with all of the benefits of the POD locker design.
The unique POD locker range offers a range of lockers from 7 individual compartments up to 66 individual compartments in one well designed and compact circular locker. With the option of a rotating base which allows you to install the POD locker in the corner of a room or in any compact space the unit can be rotated to access all lockers. With a choice of lock options, colours and ancillary products this truly is an innovative and versatile locker product.

Select below dimensions in order to buy this product.
Dimensions
Code
Web price
VAT
1780mm H X 460mm W X 460mm D
7 PD-701818 C/D
£931.76
20.00%