Two Doors Vision Panel Security Locker V1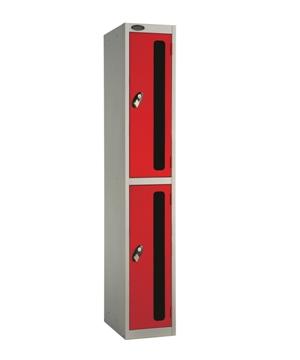 Description
2 Doors VisionPanel Security Locker
Where you need to have visibility of the contents of lockers at all times or where security is a consideration then the Vision Panel lockers will provide the solution. Fitted with a vision panel in every steel door. Available in three different sizes and with a choice of locking mechanisms.

Supplied with 2 double coat hooks.
Probe products have been manufactured, to the highest standards, in the UK since 1960
All with the added protection of Activecoat anti bacterial powder coating.
Select below dimensions in order to buy this product.
Dimensions
Code
Web price
VAT
1780mm H X 305mm W X 305mm D Single
VISION-1212/2-N1
£115.21
20.00%
1780mm H X 305mm W X 305mm D Nest of 2
VISION-1212/2-N2
£230.99
20.00%
1780mm H X 305mm W X 380mm D Single
VISION-1215/2-N1
£118.34
20.00%
1780mm H X 305mm W X 380mm D Nest of 2
VISION-1215/2-N2
£244.47
20.00%
1780mm H X 305mm W X 460mm D Single
VISION-1218/2-N1
£124.38
20.00%
1780mm H X 305mm W X 305mm D Nest of 2
VISION-1218/2-N2
£249.87
20.00%